what are the most impacted items due to GST on each items categories
Goods and Services Tax (GST): At the stroke of midnight on July 1, 2017, 70 years after gaining independence from British colonisers, India will have another "Tryst with Destiny" as the country will go under a complete tax overhaul. The new tax regime, the Goods and Services Tax (GST), will bring massive changes in one of the largest economies of the world. The GST will change the way people conduct businesses in India as the country will become a single market with a single tax rate, irrespective of the state you conduct your business in. Barring a few exemptions, from the smallest entity on the economic food chain to multi-billion conglomerates, no one will stay untouched by the GST. The effect of the new tax regime will be proportional to the size of the entity but ultimately it will be the end user who will bear the brunt of higher tax rate or get the benefits of lower taxes.
For example, most of the services, for which we pay 15 per cent service tax, will be bracketed into 18 per cent tax slab but some will also get cheaper with 5 per cent tax slab. Either way, it will take a while to understand how much tax we are paying on a particular product or service. To make your transition easier, we have compiled an item-wise list of a plethora of products and their corresponding tax rates.
Complete list of GST rates for all the items: 
Impact of GST on Food items
No tax (0 per cent GST)
Unpacked foodgrains, fresh vegetables and fruits, unbranded atta, maida, besan, gur, milk, eggs, curd, lassi, unpacked paneer, unbranded natural honey, palmyra jaggery, salt, fresh meat, fish, chicken, butter milk, cereal grains hulled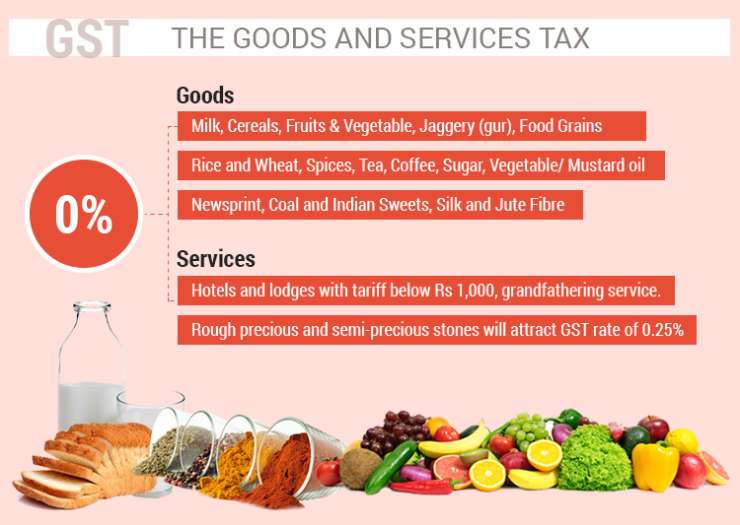 5 per cent
Sugar, tea, roasted coffee beans, edible oils, cream, skimmed milk powder, milk food for babies, packed paneer, frozen vegetables, cashew nuts, spices, pizza bread, rusk, sabudana, Raisin, fish fillet, packaged food items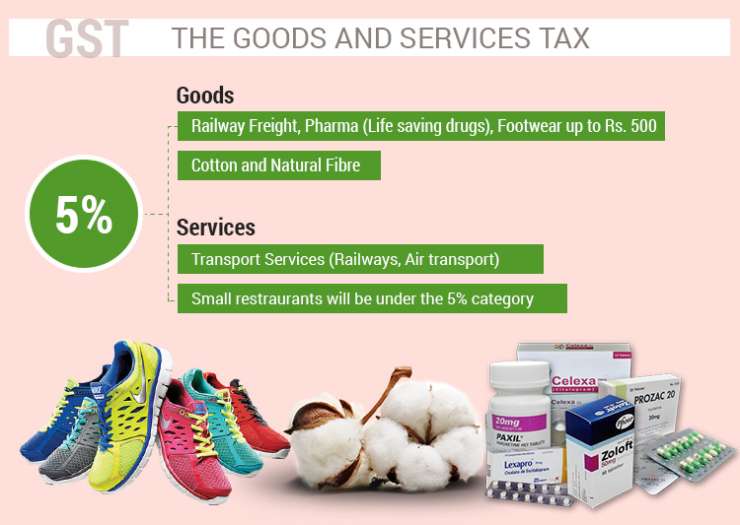 12 per cent
Butter, ghee, almonds, fruit juice, packed coconut water, preparations of vegetables, fruits, nuts or other parts of plants including pickle, murabba, chutney, jam, jelly, bhujia, namkeen, fruit juices, frozen meat products, dry fruits in packaged form, animal fat and sausage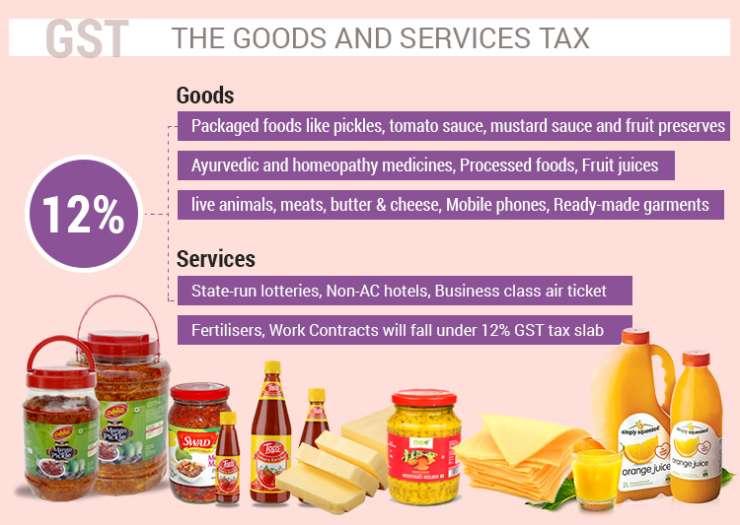 18 per cent
Biscuits (all categories), flavoured refined sugar, pastries and cakes, preserved vegetables, soups, ice cream, instant food mixes, pasta, corn flakes, curry paste, mayonnaise and salad dressings, mixed condiments and mixed seasonings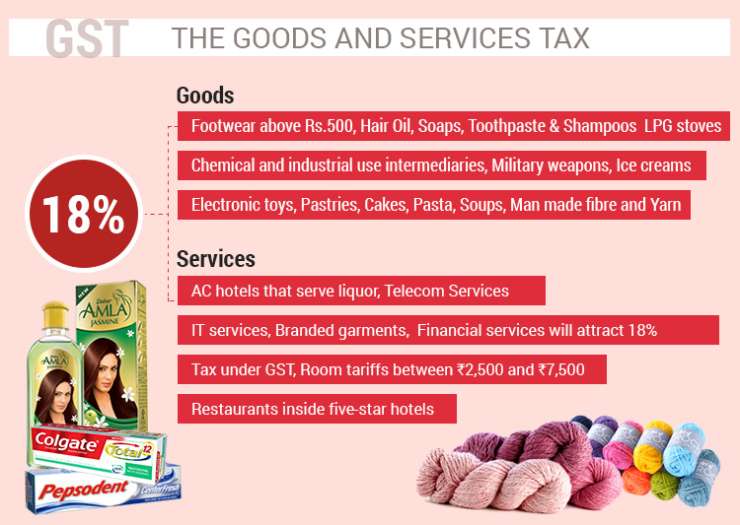 28 per cent
Chewing gum, molasses, chocolate not containing cocoa, waffles and wafers coated with chocolate
Impact of GST on Apparels/Footwear
0 per cent
Handloom
5 per cent
Footwear (upto Rs 500), apparels (upto Rs 1,000)
12 per cent
Apparel above Rs 1000
18 per cent
Footwear costing more than Rs 500, branded garments, headgear and parts thereof
28 per cent
Impact of GST on most used services
0 per cent
Education services, health services, hotels and lodges with tariff below Rs 1,000, grandfathering service. Rough precious and semi-precious stones (0.25 per cent)
5 per cent
Transport services (Railways, air transport)
12 per cent
State-run lotteries, non-AC restaurants, business class air ticket, fertilisers, work contracts
18 per cent
AC hotels that serve liquor, telecom services, IT services, financial services, room tariffs between Rs 2,500 and Rs 7,500, restaurants inside five-star hotels, movie tickets below Rs 100
28 per cent
Private-run lotteries authorised by the states, hotels with room tariffs above Rs 7,500, 5-star hotels, race club betting, movie tickets above Rs 100
Impact of GST on Personal care products
0 per cent
Kajal, sindoor, bindi, bangles, 5 per cent
12 per cent
Tooth powder
18 per cent
Toothpaste, soap, toiletries, tampons, kajal pencil sticks, hair oil, tissues
28 per cent
Deodorants, shaving creams, after shave, hair shampoo, dye, sunscreen, shavers, hair clippers
Impact of GST on household items
0 per cent
Prasad, phool bhari jhadoo
5 per cent
Agarbatti, domestic LPG, bio gas, coir mats, matting and floor covering
12 per cent
Umbrella, sewing machine, spoons, forks, ladles, skimmers, cake servers, fish knives, tongs
28 per cent
Paint, wallpaper, ceramic tiles, water heater, dishwasher, washing machine, vacuum cleaner
Impact of GST on Health/aids
5 per cent
Medicines, stent, insulin, Braille paper, Braille typewriters, Braille watches, hearing aids and other appliances to compensate for a defect or disability
12 per cent
Ayurvedic medicines, all diagnostic kits and reagents, glasses for corrective spectacles and flint buttons
How will GST affect prices of electronic devices
12 per cent
Mobile
18 per cent
Computers, printers, printed circuits, camera, speakers and monitors, Electrical Transformer, CCTV, Optical Fiber
Impact of GST on stationary
0 per cent
Children's drawing and colouring books, printed books, newspapers, stamps, judicial papers
5 per cent
Postage or revenue stamps, stamp-post marks, first-day covers
12 per cent
Exercise books and note books
Others
0 per cent
Jute, bones and horn cores, bone grist, bone meal, hoof meal, horn meal, Human hair
5 per cent
PDS Kerosene, coal, lifeboats, ice and snow, kites
12 per cent
Playing cards, chess board, carom board, ludo and other board games
18 per cent
Bidi Patta, mineral water, tissues, envelopes, steel products, Aluminium foil, weighing Machinery (non-electrical or electronic), bamboo furniture, swimming pools and padding pools
28 per cent
Automobiles, motorcycles, aircraft for personal use, bidis, pan masala, aerated water, weighing machine, ATM, vending machines
Source: indiatvnews